CRDC & City of Clinton, Iowa Recognized as #1 Micropolitan Along Mississippi River Corridor by Site Selection Magazine
As the cold winds of winter approached Iowa in late 2020, specialty fibers made residents of Clinton, Iowa, glow with warmth.
It wasn't just parkas and wool. Japan's Spiber Inc., a biotech startup that produces "brewed proteins" such as spider silk for use in clothing and other consumer products, announced in December it would invest $101.4 million to expand production of its plant-based polymers to Clinton, its first U.S. facility, through a partnership with ADM, which employs nearly 900 in the area.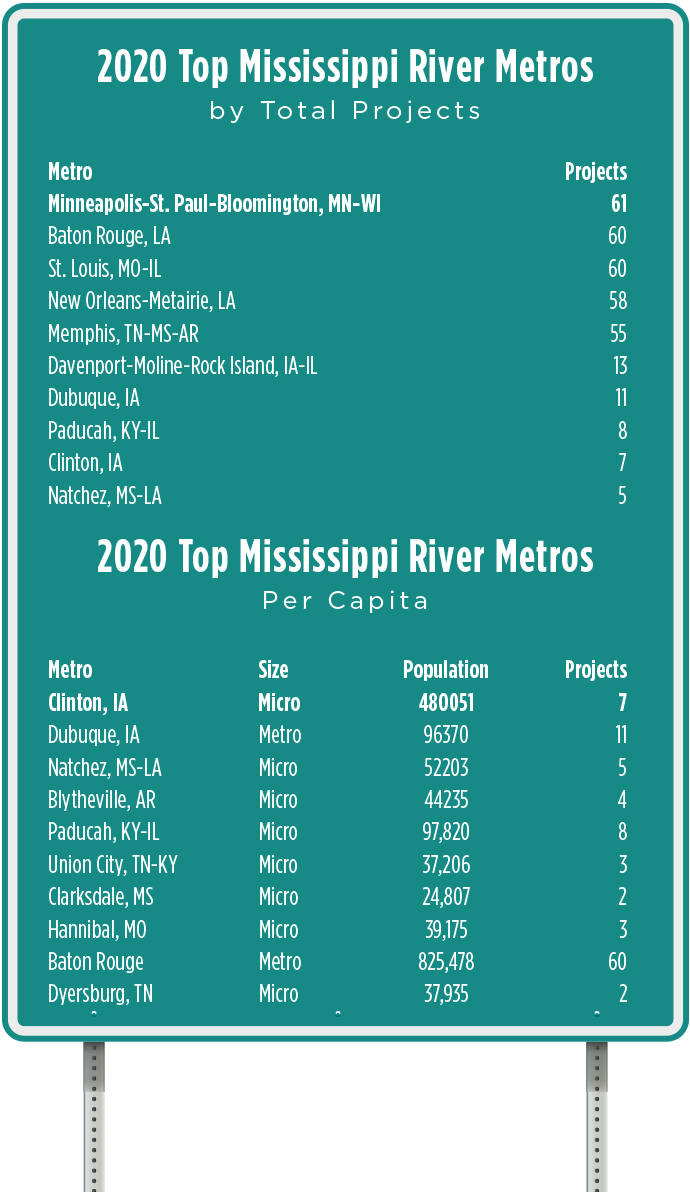 Erin M. Cole, president and CEO of Clinton Regional Development Corporation (CRDC), says "Project Charlotte," the code name for the Spiber project, moved forward quickly despite pandemic conditions. The city played a major role, working for over a year to arrange a land deal that made city-owned land near the chosen location available to Spiber for the expansion. An incentive package includes $1 million through Iowa's High Quality Jobs (HQJ) Program, with the City of Clinton providing a 20% match.
Other major projects have come from Timken, which has moved some operations from a site across the river in Fulton, Illinois; Nestle Purina Petcare, with a $140 million, 73-job expansion of its dog food plant; Lake Erie Biofuels; Collis; Sewer Equipment of America and China-based United Machining, among others. They're why the bi-state Clinton region this year claims the No. 1 spot in Site Selection's rankings of Mississippi River corridor communities' economic development activity per capita. Minneapolis-St. Paul claims the top spot in total corporate facility investments over the 18 months ending in December 2020.
Commute Across the River or Live On the River
The Nestle Purina project also benefited from a city team led by Mayor Scott Maddasion that helped get rid of some easements in order to give the company breathing room from a landlocked site where it's operated for more than 50 years. In Timken's case, the CRDC's remit stretches across the river into Whiteside County in Illinois, where Timken wanted to locate a business, Diamond Chains, that it had just purchased in Indianapolis. But there was no room.
"That's when they crossed over into Clinton," says Cole. "Having that relationship in place was a key thing. Workforce is critically important. One of the benefits of being literally next to Whiteside County is they have a larger population in general. There are two bridges in our community. Thousands of people from Illinois come into Iowa and vice versa, and the two states make it easy to cross the Mississippi River and work on both sides."
In another example of cross-river collaboration, J.T. Cullen, a metal fabricator located on the Illinois side, is taking advantage of Clinton High School being the first high school in Iowa to be part of the state's registered apprenticeship for welding program by signing up the first student apprentice.
The United Machining investment is going into a refurbished manufacturing building in downtown Clinton, where the tallest building is six stories high and a push is on to attract more residents.
"Revitalizing downtown is extremely important," says Maddasion, noting several mixed-use projects underway. The area just was just recertified as an Iowa Great Place, which comes with a $250,000 beautification grant. "We've love to have a microbrewery," the mayor says. "Our plan is to get people to live downtown."
"Even industrial companies want to know about amenities and affordability," says Cole, noting that five separate housing projects are underway. "The housing developers came forward," she says. "We've seen that marriage of industrial development and housing development, and the downtown area is literally along the river. To Clinton's credit, city leaders put in a levee years ago. So there is less risk involved."
Team Sport
"We were able to achieve all of this despite the COVID pandemic and having just a two-person team through most of the year," says Cole. Assets such as the rail-served Lincolnway Industrial Rail & Air Park (an Iowa Certified Site for heavy industry) and the Lyons Business & Technology Park help a lot. But the team is really bigger than that, when you factor in the IEDA and strong partners such as Alliant Energy and Clinton Community College, part of a network of campuses that forms Eastern Iowa Community College.
CRDC partnered with the college to create a manufacturing awareness program that launched in June 2020 in order to put retail and service workers displaced by the pandemic in touch with opportunities at booming manufacturing operations right in their own backyard. Around 25 different units and certifications are available through the program, which has 74 people enrolled. They include Cole's hairdresser, the first enrollee, who made a personal pivot to a job at Nestle Purina.
"Now we've created a new pipeline of workers who used to work in retail, and they are able to stay here and probably make better money," Cole says. "That was a big deal for us."
The next big deal comes via a vote by residents of the Eastern Iowa Community Colleges service area in early March on a $40 million bond levy that will fund the establishment of new career and technical education centers and high school training outreach in the region.
As for utilities, "Alliant is a critical partner for us and one of our largest private investors," says Cole, bringing in not just affordable and accessible power, but a host of other development resources, including on-site solar developed for one company, and GIS mapping for the CRDC that saved the organization thousands of dollars.
"In Iowa the eastern region has been really hot for us," says Jim Bowman, senior business attraction manager for Alliant Energy's economic development team. Even bad news has turned into something good: In Dubuque, the closed Flexsteel building, just constructed, will now be home to an operation from Simmons Foods, moving in in July of this year, says Jacob Semann, key account manager for Alliant.
The Alliant team's involvement is crucial to the ADM/Spiber project, says his Alliant key account manager colleague Paula Steward, as construction of a large substation originally slated for 2024-2025 was moved up to 2022 to accommodate the project's needs. Another 50-MW substation is now being planned for the rail park. "We have approval to purchase the land, and that will be built once we get our first customer out there," she says.
"I tell people Clinton will be the next Dubuque," Steward says. As in its fellow Iowa city just up the river, Clinton's economic development momentum is seriously robust. "There is so much going on," she says. "I'm more passionate about Clinton than my own hometown."
Source: Site Selection Magazine, March 2021
https://siteselection.com/issues/2021/mar/mississippi-river-corridor-collaboration-across-boundaries-is-key-to-wins-for-twin-cities-and-clinton-iowa.cfm